Two years ago, Right to Know travelled to Geneva for a hearing with the Aarhus Convention Compliance Committee on foot of a complaint we made in August 2016.
This related to long systematic delays in dealing with requests made by us – and others – under the Access to Information on the Environment (AIE) regulations.
One such case was Right to Know director Gavin Sheridan's long-standing efforts to have the National Asset Management Agency made subject to AIE requests.
The delays persisted and in many of our cases – including ones relating to Coillte, the Office of the President, the Council of State, the Celtic Roads Group, and a number of government departments – decisions were taking at least a year to be made.
In their draft conclusions, the Aarhus Convention Compliance Committee has found the following.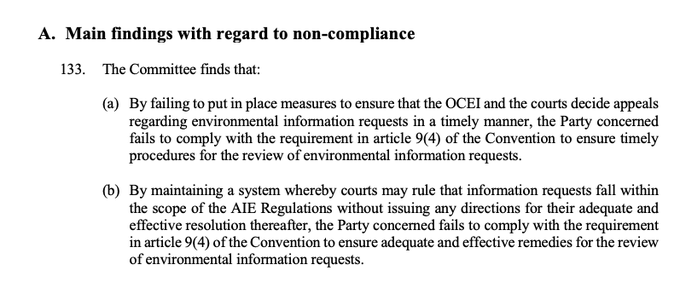 It is important to say these are only draft conclusions, and it is open to both Right to Know and the Office of the Commissioner for Environmental Information to make further observations.
You can read the report in full below: